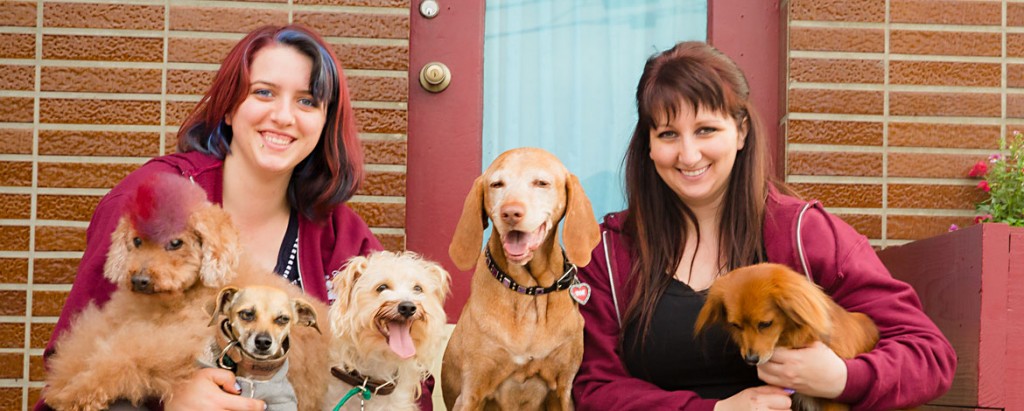 The Salon
The Whole Kitten Capoodle was founded by Erin Roberts & Lauren Mecadon in 2014, and opened October 2014. Erin and Lauren are co-owners and managers of the business.
Erin (Co-Owner/Groomer)
Erin was a bather/dryer for Petsmart for 1.5 years, then moved to Bed & Biscuits where she was a bather/dryer for 1 year before apprenticing to become a groomer. Erin has been grooming since 2008. Erin specializes in difficult and special needs dogs. Erin has 2 dogs of her own that are her family. She has a bichon/terrier mix named Trusty owned since 2012, and Chihuahua mix owned since 2014.

Lauren (Co-Owner/Groomer)
Lauren was a kennel tech & receptionist & bather/dryer at Bed & Biscuits for 4 years before going to grooming school at Madeline's Institute Of Pet Grooming in Santa Clara. Lauren has been grooming since 2010. Lauren specializes in large dogs. Lauren's baby is a long haired chihuahua/daschund mix named Roo owned since 2011.
Martha (Groomer)                                                                                                                        Martha went grooming academy through Pet Extreme in 2014 & was a groomer for Pet Extreme which later became a Pet Supplies Plus. Martha then became Regional Groom Lead & a grooming teacher in 2017 before coming to Kitten Capoodle in 2018. Martha specializes in Poodle cuts. Martha's baby is an orange Tabby cat named Ellie owned since 2017.