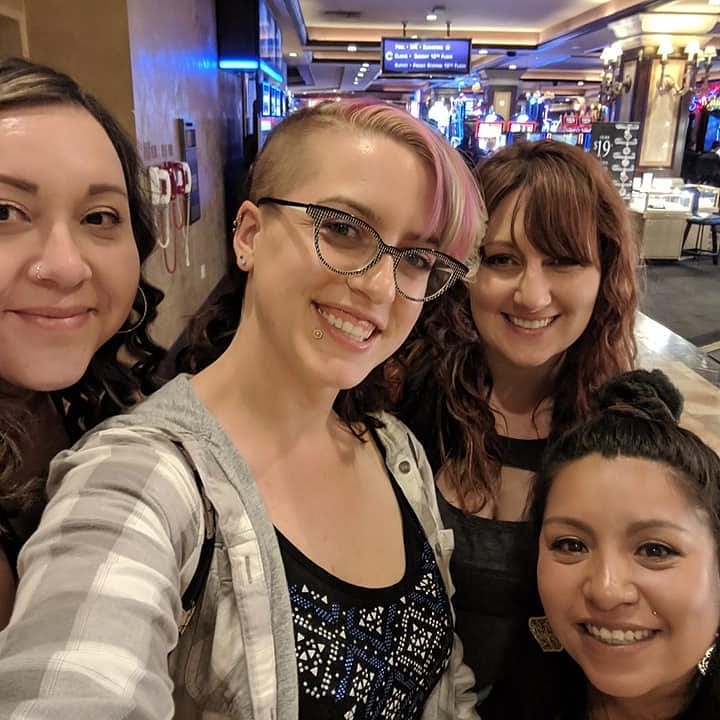 The Salon
The Whole Kitten Capoodle was founded by Erin Roberts & Lauren Mecadon in 2014, and opened October 2014. Erin and Lauren are co-owners and managers of the business. We then opened our second location in Scotts Valley in October of 2022.
We are dedicated to providing quality grooming services to the Santa Cruz County area. Caring for pets in a safe environment and every animal is treated with love, patience, and respect. Our top priority is the pets physical & emotional wellbeing. We are a (mostly) cage-free salon, and we separate pets as needed (cats are ofcourse the exception and are always caged for safety).
Our professionals are experienced and trained to groom cats and dogs of any breed and size. We offer a wide range of services and products for sale so your pet will always look and feel its best.
Erin (Co-Owner/Groomer)
Erin was a bather/dryer for Petsmart for 1.5 years, then moved to Bed & Biscuits where she was a bather/dryer for 1 year before apprenticing to become a groomer. Erin has been grooming since 2008 and specializes in cat grooming, as well as difficult and special needs dogs. Erin has 2 dogs of her own that are her family. She has a bernese/cavelier mix (Baldr) owned since 2021, and Chihuahua mix (Dobbrah) owned since 2014.

Lauren (Co-Owner/Groomer)
Lauren was a kennel tech & receptionist & bather/dryer at Bed & Biscuits for 4 years before going to grooming school at Madeline's Institute Of Pet Grooming in Santa Clara & then worked as a groomer for Bed & Biscuits since 2010. Lauren specializes in large dogs. Lauren's baby is a long haired chihuahua/daschund mix (Roo) owned since 2011, as well as a Basset Hound (Ruffles) owned since 2021.
Jasper (Groomer)
Alicia (Groomer)